Case Law : Sabyasachi Calcutta Llp Vs Mr. Ankit Keyal Proprietor Asiana Couture and Ors
In a recent case of Sabyasachi Calcutta LLP (plaintiff) and Mr. Ankit Keyal proprietor Asiana Couture and ORS (defendants), the Delhi High Court decides whether the defendants are using a design which is similar to the registered design of plaintiff.
The plaintiff has moved the High Court of Delhi for an Order of injunction, restraining the defendants from infringing the designs of the plaintiff under the names ?Rusheeda Lehanga? and ?New Botanical Lehanga/P.C. Lehanga?.
The plaintiff claims that the defendants are using a design which is similar to the registered designs of plaintiff which constitute piracy within the meaning of Section 22 of the Design Act, 2000.
Plaintiff?s original designs and defendant?s infringing designs are depicted below:
Plaintiff?s original designs
Defendant?s infringing designs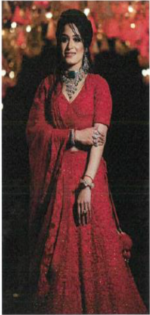 The plaintiff prayed for an order for ad interim temporary injunction restraining the defendants, their principal officers, servants, agents, representatives dealers and all other acting for and on behalf from manufacturing, applying/causing to be applied, selling, offering for sale, importing, advertising/publishing, directly or indirectly dealing in the impugned infringing garments ?Rusheeda Lehenga? and ?New Botanical Lehenga / P.C. Lehenga? or any other garments or similar article which is identical and/or obvious/fraudulent imitation of the Plaintiff?s registered designs or any other registered design or doing any other act which amounts to infringement of the Plaintiff?s registered design, including an order directing the Defendants to remove all the impugned infringing designs and garments from all online platforms including but not limited to Facebook, Instagram and other third party websites.
The Court observed that the designs of defendants? prima facie appear to be an imitation of the plaintiff?s designs and an attempt to link the products of the defendants with those of the plaintiff.
The Court ordered a restraint against the defendants in terms of plaintiff?s prayers till the next date of hearing. The court passed an exparte order and the plaintiff is directed to comply with Order XXXIX, Rule 3 of the CPC, 1908.